3D Printing Job Market Trends in 2021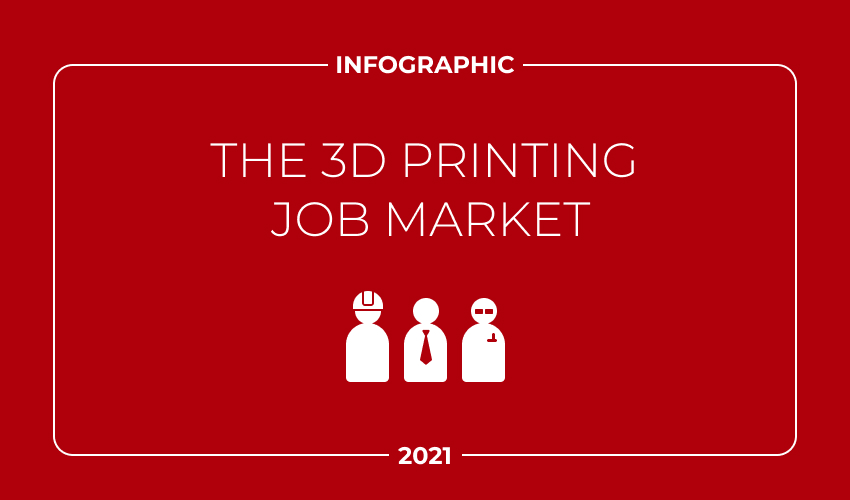 The growing adoption of additive manufacturing is accompanied by more frequent and increased recruitment policies, as companies seek to strengthen their teams to go even further. But finding the right person is not always easy, especially in a market that requires knowledge and skills that have not always been acquired by job seekers. Most companies find that the lack of knowledge about 3D printing is a real barrier to its adoption. However, the sector is constantly looking for new profiles and our Job Board is proof of this. In 2021, more than 430 job offers were published on our various sites (excluding Italian), i.e. 30% more than in 2020.
In order to take stock of the current job market in additive manufacturing, and to try to understand what the main trends are in the sector, we took a closer look at these job offers. It is clear that companies specializing in 3D printing (manufacturers of 3D equipment, distributors, services, etc.) continue to invest, especially in more technical profiles. Industrial groups are not left out, proof that additive manufacturing is integrated into their manufacturing processes. Let's discover together the main recruitment opportunities in additive manufacturing in 2021!
Long-term contracts in demand
Unsurprisingly, the majority of companies are looking for long-term contracts. In the long run, companies have posted nearly 350 such job openings on the 3Dnatives Job Board. Looking to the future, 3D printing players show their confidence in the technology and its development. And when you look at the market as a whole, these facts are confirmed. This year, following the example of Desktop Metal, which multiplied its acquisitions, several companies started or continued their expansion.
As for internships and work-study programs, they represent 19% of searches. Proof that more and more training courses dedicated to 3D printing are being created internationally. Marine Coré Baillais, founder of Digital Pâtisserie, told us about this phenomenon, noting, "There are very good training courses in 3D printing in France, and this is a strength for French companies. Many students have worked on metal additive manufacturing, and this is a rigorous school. It may also be up to us, employers in the sector, to create more opportunities!
The importance of technical profiles
Once again, it is the technical profiles that are most in demand by companies in the sector. Like engineers, 3D technicians, and design professionals, gamers are looking for technology specialists. Markus Seibold, Vice President of Additive Manufacturing at Siemens Energy and Materials Solutions, told us: "To support the ramp-up of our volume production, we are looking for industry experts who understand the specifics of additive manufacturing. while having experience in areas such as Lean and process automation. And this trend continues among small businesses. Marine Coré Baillais explains: "We are looking for talent to work on the design and industrialization of our new 3D food printer. Mechanics, electronics, biochemistry, automation, human/machine interface, UX… The subjects are varied and require multiple skills.
But as the market generates more and more value, sales jobs have also grown in popularity. Business Developer, Sales Manager or Salesperson are professions that are now very popular with players in the sector. In 2021, on the 3Dnatives Job Board, sales-related jobs accounted for 18.31% of job openings.
Adoption of additive manufacturing
As explained earlier, the additive manufacturing industry is growing rapidly. As innovations follow one another and the advantages offered by the technology become more and more evident, such as lower production costs, reduced part weight and flexibility, many companies are adopting it. Logically, with 113 job offers published in 2021, 3D machine builders are leading the way. Sara Romero, HRD of the Spanish manufacturer BCN3D, confirms: "3D printing is booming all over the world, it is experiencing strong growth and the market is consolidating. There are more and more profiles in demand, and we are seeing the gap between supply and demand in the 3D printing sector narrow. A few years ago, there were fewer professionals specialized in our technology to fill the positions offered, but this gap between demand and supply is narrowing considerably and that is good news. Behind them, industries and distributors come in 2nd and 3rd respectively.
When integrating 3D printing into a production process, it is also necessary to think about 3D software. Increasingly efficient and optimized, software is an essential part of the additive manufacturing process. That's why companies specializing in 3D software development are also growing, and rightly so. Long-time users of the technology, the automotive and aerospace industries together account for 7.78% of offerings.
SMEs at the heart of the market
If one would have thought that large companies were the main recruiters on the labor market, SMEs are also very active. With 33% of offers, companies with 11 to 50 employees are the most in demand in the sector.
But to think that big business is inactive would be a mistake. Companies with 51 or more employees come in second place with 31% of offers. Finally, with 20%, groups of more than 5,000 employees are also looking for new talent. BCN3D concludes: "We are looking for very diverse profiles for our high technology, because we are a very complete company, and we even manufacture software, which must also be very qualified profiles in their skills, in their professional and academic background.
What do you think of the 3D printing job market in 2021? Let us know in a comment below or on our LinkedIn, Facebookand Twitter pages! Don't forget to sign up for our free weekly Newsletter here, the latest 3D printing news straight to your inbox! You can also find all our videos on our Youtube channel.
Find the 2021 3D printing job market infographic HERE.