Africrypt, BTC scam in South Africa, gets away with $ 3.8 billion, asks victims not to report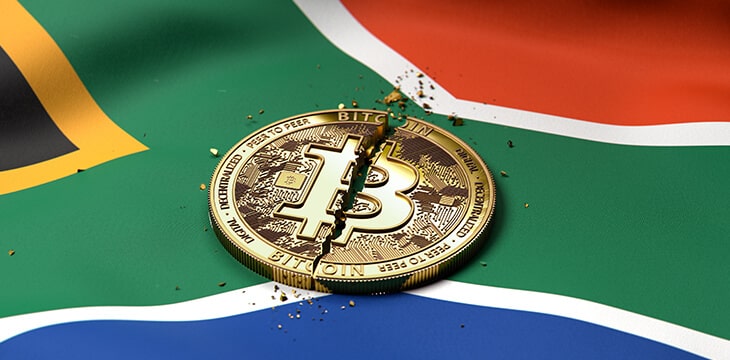 South African investors are still in shock after a digital currency scam reportedly grossed Rand 54 billion ($ 3.8 billion) and blamed it on hacking. Africrypt had been around for two years, but during that time it reportedly attracted investment from high net worth individuals and celebrities. Once it claimed it had been hacked, the company reportedly urged its investors not to report as authorities would hamper recovery efforts.
South Africa's digital currency industry has barely recovered from the damage Mirror Trading International has inflicted on investors. MTI was a multi-level marketing scam that grossed nearly $ 1 billion for over 260,000 investors. It had grown beyond South Africa, with regulators in Texas and Canada declaring it illegal in their jurisdictions.
Africrypt is even bigger and bolder, according to a report from local news outlet Moneyweb. The company was formed in 2019 by Raees and Ameer Cajee, the former being the CEO. Raees, 21, described himself as a digital currency guru. In one of the investor speeches, he claimed to have heard about BTC for the first time in 2009 when he was only 8 years old, while watching the news with his father and had been hooked ever since. .
Raees also claimed to have started mining ETH while still in school and developing his own AI-based trading algorithm. "It is this dynamic and innovative trading system that has fueled Africrypt's astronomical growth from a one-man operation out of a bedroom to one of the largest and most successful AI trading companies. Africa in just a few years, "he reportedly told investors.
Africrypt was targeting high net worth individuals and celebrities, according to reports. As with any other scam, it promised ridiculous returns, sometimes claiming that it could offer 10% daily returns. The company was so adept at targeting its victims that most of its investors saw it as their own secret path to a world of unlimited wealth. It is this target market that Africrypt used to reach other high net worth investors in their inner circles. Many clients have invested over 1.5 million rand ($ 105,000), some up to 20 million rand ($ 1.4 million).
In April 2021, executives emailed clients a statement, denunciation them that Africrypt had been hacked. The breach had affected clients' accounts, they said, and they were attempting to recover the stolen funds. "Our number one priority is to get the funds back as quickly as possible, however, this process is very careful and will take a long time, if successful," they said.
However, the most curious part of the email was when they asked customers not to report the matter to authorities.
"We urge all customers to be patient as we attempt to resolve the current situation. It is understandable that customers can go the legal route, but we ask customers to please recognize that this will only delay the recovery process. "
According to Hanekom Attorneys, the firm representing the victims, the two founders flew to the UK a few days after the alleged hack. They also allegedly deleted the website and disconnected all contacts, including their phone numbers.
Hanekom said most of the BTC has been transferred to BTC cups and mixers, making it almost impossible to trace. The law firm also revealed that the crooks were reckless enough to drain investor funds into some of the wallets they used in the scam, yet claim to have been hacked.
The Cape Town-based company said, "Our deeper blockchain analysis links the flow of cryptocurrency transactions to some large local exchanges. We hope that these exchanges will be open to the disclosure of information relating to the wallets used by Africrypt or their agents.
To pursue CoinGeek's Crypto Crime Cartel series, which dives into the flow of groups – of BitMEX at Binance, Bitcoin.com, Block flow, Metamorphose, Coinbase, Ripple and Ethereum– who have co-opted the digital asset revolution and turned the industry into a minefield for naive (and even experienced) market players.
New to Bitcoin? Discover CoinGeek Bitcoin for beginners section, the ultimate resource guide to learning more about Bitcoin – as originally envisioned by Satoshi Nakamoto – and blockchain.