Argentines speak from the inside about the spiraling inflation nightmare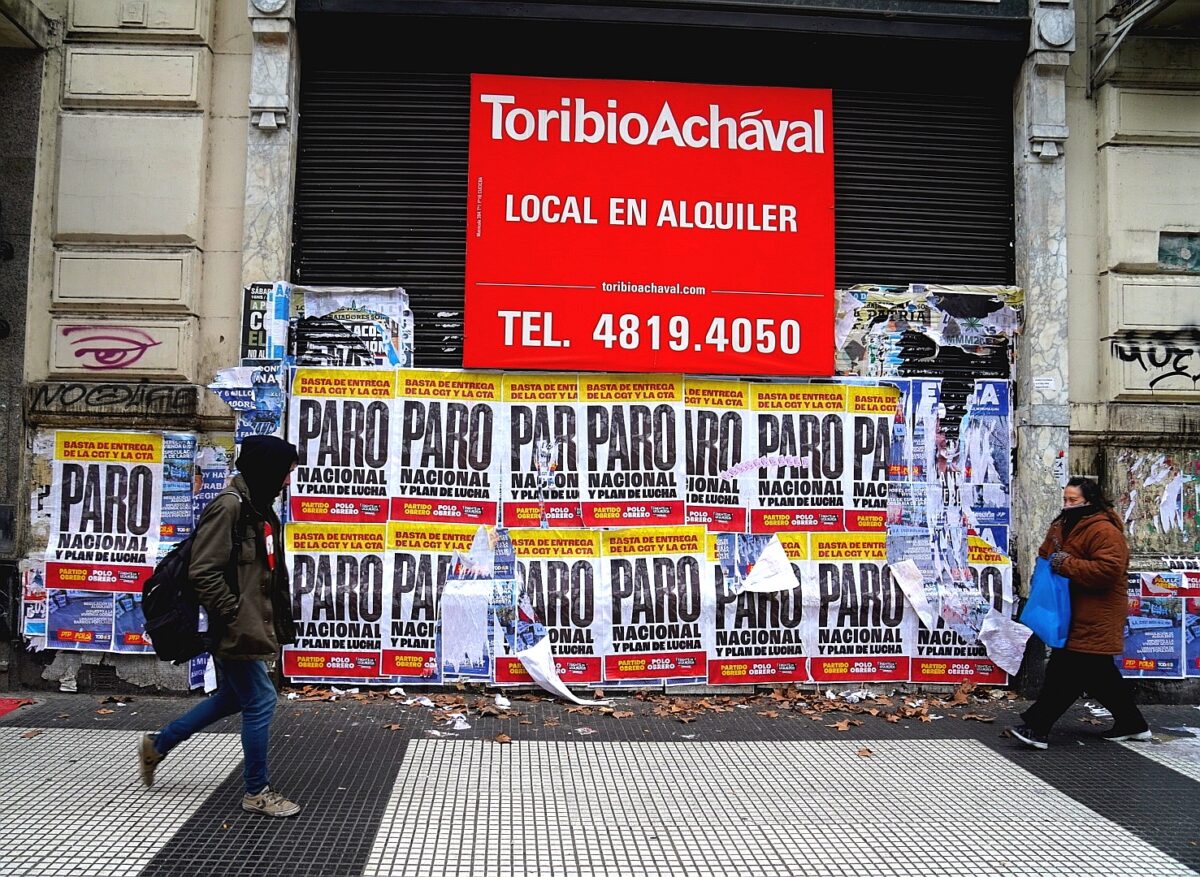 Huge black market for US dollars as economist predicts prices could jump 90% by end of 2022
BUENOS AIRES, Argentina – The sound of dozens of car horns filled the air as thousands of socialist union protesters blocked three main avenues in Buenos Aires near Plaza de Mayo outside the office of President Alberto Fernandez on August 4 .
It has become part of the city's background noise in recent months, one of many massive protests since government cuts to the country's generous grant programs began in June.
Amid soaring inflation and poverty in the country, protest organizers – known locally as piqueteros – are threatening to close businesses and roads until the government relents and increases social grants.
On August 4, protesters stood outside government offices in the freezing winter air, holding up signs with slogans such as "public policies for all" and "social equality".
Calls for more food supplements and relief from the country's runaway inflation, which has officially reached 64%, are frequently heard on the streets.
Three days later, other social union groups closed the city's widest avenue on 9 de Julio on August 7 for six hours as part of a protest to show support for vice -President Cristina Kirchner, a strong supporter of the country's welfare programs.
Indicted for fraud in 2016, Kirchner is currently on trial for "unfaithful administration" and colluding with Argentina's central bank to sell billions in currency futures at below-market rates in 2015.
His trial illustrates what is at the heart of Argentina's crisis: corruption and money management problems.
Rampant government spending, money printing and a growing inability to generate revenue have ravaged the once prosperous nation.
And many locals put the blame on the shoulders of Fernandez's administration.
"Everything in Argentina is starting to break," economic analyst Chris, host of the hit online show Mate con Mote, told The Epoch Times.
Due to fears of possible government blacklisting for speaking to foreign media about the country's crisis, Chris preferred to have only his first name printed.
He is a resident of Buenos Aires and an advocate for change within the country's crumbling economy. The economist and activist argues that Argentina's inflation can be traced to a primary source.
"The government continues to spend more than it earns," he said.
Officials point to the pandemic and the Russian conflict in Ukraine as the main drivers of the recent inflation spike. However, Chris notes that some neighboring countries, such as Bolivia and Uruguay, are not taking the same hit as Argentina.
"If you see the 2019 Boliviano, it's still worth the same amount. Ditto for the Uruguayan peso. But not in Argentina, the economy was not the same," he said.
On the evening of August 3, the new economy minister Sergio Massa announced his economic recovery plan.
He said"We have a huge challenge ahead of us, but also a huge opportunity to transform the reality we live in."
Although some locals shake their heads and think Massa's verve is too little, too late.
"We weren't ready for this," Lucilla Martinez told The Epoch Times.
Martinez works in the hospitality industry in the historic district of Monserrat. She says many career fields in Argentina are supported by unions that offer specific benefits, which comes in handy as inflation continues to climb.
One is a pay rise to help offset the effects of the falling peso rate.
Like Chris, Martinez believes his country's economic woes are directly linked to the poor spending habits of politicians. But she also thinks the easy access and overuse of the country's grant programs hasn't helped.
"What the government is offering in grants was too good, and people took advantage of it for years," Martinez said.
On the other side of town is Albertina Perez, a transit driver who dreams of retiring in the next two years. Though she doubts that's possible now, the country's extreme inflation makes planning for the future difficult for most middle-class earners.
"The situation [here] is a disaster. Everyone in the world knows that," Perez told The Epoch Times.
Argentina's transport minister hiked subway fares by 40% in Buenos Aires on Aug. 1, further stoking anger among cash-strapped residents. Public transport fares have remained stable in the capital for the past three years, despite fluctuating inflation throughout the pandemic.
For people like Perez, excessive state welfare programs are a thorn in the side of many Argentines.
"The Planeros [welfare recipients] think all their money comes from the government, but it comes from working people. I pay for these people to stay home and not work," she said.
illegal dollars
Walk down Florida Street in downtown, it is not uncommon to hear the locals whispering "dollars" to passers-by.
It's the verbal calling card for black market dollars, a thriving industry in Argentina that residents use to protect their savings and income from the plummeting Argentinian peso.
Currently, there are 11 different exchange rates for the US dollar in Argentina, only one of which is considered the official government rate.
The domestic and international exchange rate for the Argentine peso was 133 pesos to US$1 on August 7. This represents a drop of two points from August 4, when the official exchange rate was 131 pesos for US$1.
But locals don't care about the devalued official rate.
Instead, savvy Argentines will trade up to 290 pesos for US$1 on the black market, which can be found across the country.
People exchange pesos for dollars at the higher, unofficial rate from their homes, storefronts, restaurants, or even their pockets whenever they get the chance.
The Argentine government calls these "illegal dollars", but is popularly known as the "blue dollar" rate.
"The government prints money, which is a problem because no one wants pesos. Everyone here wants dollars," Chris explained.
Excessive money printing in recent months has also fueled soaring inflation in the country.
In July 2021, Argentina's central bank printed 180 billion pesos ahead of November's midterm elections. With no access to foreign credit due to defaults, the Fernandez administration has resorted to printing money to finance social spending during the pandemic.
As part of its new plan, Massa promised put an end to money printing as part of the country's new economic strategy to curb inflation.
Nonetheless, the locals waste no time nabbing US dollars wherever they can, because they've literally been here before.
Between 1989 and 1990, inflation in Argentina reached an unbeaten record of 2,600% inflation, during which time the national banking system "virtually disappeared", according to the International Monetary Fund (IMF).
And many locals fear the country is heading for a similar disaster.
"All the analysts are saying the same thing. We will hit 80-90% inflation this year," Chris said.
Due to the growing demand for US dollars and a higher black market exchange rate, the government has passed protocols to try to limit the number of dollars Argentines can buy per month.
Chris explained that residents are legally allowed to buy US$200 a month, which the government is trying to track through credit card spending. In the streets, the police try to crack down on street changers.
Despite this, locals know that buying dollars can be as easy as going to the grocery store or making a phone call.
Telegram and What's App groups are popular ways for locals to buy dollars. After a brief exchange, a delivery driver will bring the amount you wish to purchase in dollars to your home.
It's as easy as ordering takeout.
can't live
Juan Hernandez is a former port worker and hobby artist who sells homemade jewelry in the Monserrat neighborhood. He is also among the majority of residents looking to hedge their income with US dollars.
"It's not difficult, it's almost impossible to make a living here," Hernandez told The Epoch Times.
Opening his wallet to pull out a bright orange 1,000 peso bill, Hernandez used it to illustrate the importance of having US dollars in Argentina.
"Look at this? Today it's worth 1,000 in my wallet today. Tomorrow it might only be worth 900," he said.
Hernandez says the government is "screwing everything up" in his country. And while he's proud to be Argentinian, he also says he can travel abroad to a neighboring country to find relief from his country's crippling inflation.
Soaring inflation sparked widespread protests across the country before the government cut subsidies in June. This is because social benefits for wages were sufficient to get by before.
Yet now that commodity prices are changing and rising daily, even hourly in some stores, people who depend on welfare can no longer live on welfare alone.
In addition, some food products whose prices are controlled, such as pasta, have started to run out on the shelves.
"In January, I paid 80 pesos for a liter of milk. Now it costs around 200 pesos," Chris noted.
The spike in food prices comes at a time when around 40% of the country lives in poverty.
About 2,800 people slip below that line every day, according to data from the National Institute of Statistics and Censuses.
Perez said: "I love my country, but we have a lot of problems to solve here."