Brussels Economic Forum 2022: War, pandemic and climate top the list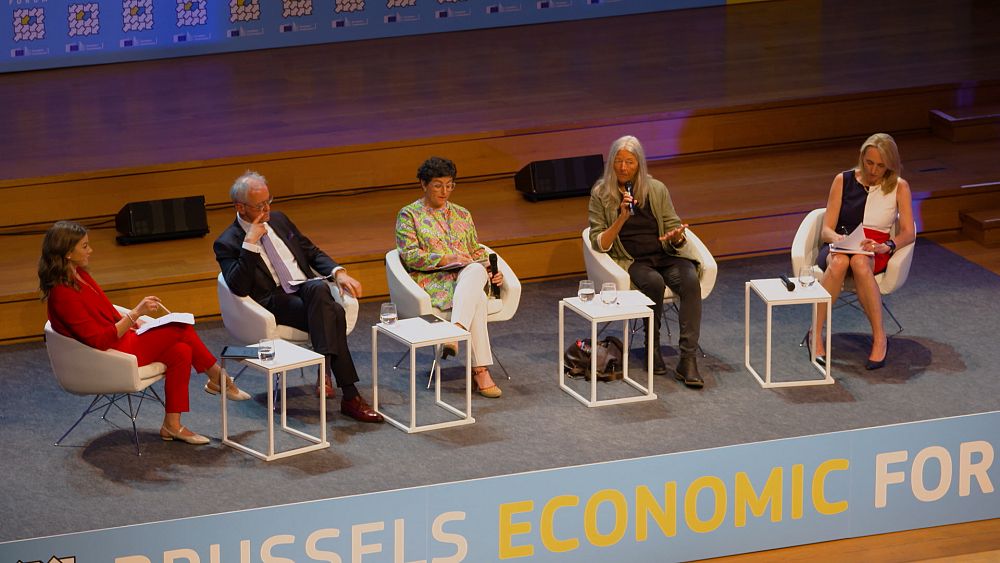 In this week's episode, Real Economy talks with IMF Deputy Managing Director Gita Gopinath and EU Trade Commissioner Valdis Dombrovskis about the economic fallout from Russia's war in Ukraine.
The team also takes a look at the EU's flagship economic event, the Brussels Economic Forum, focusing on some of the big challenges that young people and future generations will face.
War brings economic uncertainty
Russia's war is above all a tragedy for the Ukrainian people. Europe's immediate response was to show solidarity and help the refugees. Today, with food and energy prices soaring and Europe acting urgently to end its dependence on Russian energy, what does this mean for the EU economy? This will be the big question at the Brussels Economic Forum later this month.
To get a global perspective on all this, Naomi Lloyd spoke with Gita Gopinath, the International Monetary Fund's number two in Washington.
Naomi Lloyd, Euronews:
"How big will the economic impact of the war be on Europe and what will it mean for our daily lives?
Gita Gopinath, First Deputy Managing Director, IMF:
"The war in Ukraine will have a significant effect on almost all of Europe. We have lowered our growth forecast for the main European economies from around 1% to – now what we expect – 3% for this year. At the same time, we're forecasting significantly higher inflation. So the most direct effect we're seeing on people's lives, of course, outside of Ukraine and the refugee crisis, that we see there, is the fact that commodity prices have gone up, energy costs have gone up dramatically. And that's affecting people's purchasing power. And the impact of war and sanctions don't has not fully manifested at this stage.
Naomi Lloyd, Euronews:
"Given all this, what steps should the EU take to ensure a strong economic recovery, especially for young people?"
Gita Gopinath, First Deputy Managing Director, IMF:
"So the pandemic was particularly hard on young people first and now you have war and the great uncertainty that comes with war and that has effects on trust. It affects how companies hire. And you can see that this also tend to affect young workers who are just entering the labor market.So in terms of what needs to be done, we see a case right now for providing targeted support in terms of, for example, cash transfers to households that are hard hit by It is also important to invest. We need the green transition to happen while paying attention to energy security. A climate investment fund would also be very useful.
The Brussels Economic Forum
Gita Gopinath will be one of many high-level speakers at the Brussels Economic Forum on May 17. It's where top policymakers, academics, civil society leaders and business leaders debate Europe's biggest economic challenges.
The EU's flagship economic event has been happening for over 20 years and 2022 is the European Year of Youth.
But right now, what future awaits the next generation? To answer this question, Real Economy spoke with young economists and politicians who will be present this year at the Brussels Economic Forum.
Elected three years ago, Danish MEP Kira Marie Peter-Hansen expressed growing concern about what the next few years hold.
"I'm afraid that we won't achieve the climate objectives. I'm afraid that we are witnessing in Eastern Europe a bloc that is backsliding in terms of democracy and human rights. And then we going to face challenges in our democracy and that we will be standing in a new cold war, so to speak. But at the same time, I also have a lot of hope and I think that we can manage all these crises. And also looking at the younger generation, it really fills me with hope.
Each generation has its own set of challenges, but those faced by Gen Z and Alpha seem daunting.
The financial and economic crises from 2008, now followed by the COVID-19 pandemic. Added to this mix is ​​the ongoing climate crisis and the war in Ukraine.
Numerical revolution
Moreover, the digital and technological revolution will disrupt the world as we know it. When it comes to this transformation, Professor Roxana Mihet of the University of Lausanne, says governments face a difficult balancing act.
"The future we have tomorrow will depend on the policies we implement today to balance the benefits and costs of digital transformation. And I think governments around the world need to be careful about the how and when to regulate these technologies because too little regulation will hurt people, but too much regulation can also hurt them and can also hurt economic growth.
Moving forward in the green and digital transition will be vital for this generation born with a smartphone in their hands. But how can we ensure that these major disruptive trends do not increase social inequalities?
Diego Känzig, a PhD student in economics at the London Business School, says that while everyone can play their part in changing their behavior, he thinks governments should set the agenda.
"I think it's really up to the politician to set a framework that allows us to reduce carbon emissions and incentivize those behavioral changes that we need to deal with this climate challenge. And the European Union is doing a lot on this front."
To learn more about the economy we're passing on to the next generation and what needs to be done to ensure it's in good shape, Real Economy spoke with Executive Vice President and Commissioner of Commerce from the European Commission, Valdis Dombrovskis.
Naomi Lloyd, Euronews:
"What measures need to be taken to ensure a strong recovery in Europe?"
Valdis Dombrovskis, Executive Vice-President of the European Commission.
"First of all, of course, it's important to work to stop the war in Ukraine. I think that's a goal that we have to pursue in itself. But it's also clear that the sooner we stop the war, the better. also enables the economy It is important that we strengthen the resilience of the European economy, that Member States make good use of the funding available under the Recovery and Resilience Facility. we need to move away from our reliance on fossil fuels from Russia.
Naomi Lloyd, Euronews:
"How worried are you that we will not meet Europe's climate targets?"
European Commission Executive Vice-President Valdis Dombrovskis:
"We are clear that we need to stay the course on our climate targets: 55% reduction by 2030 and climate neutrality by 2050. And I would say that the fact that we are accelerating now, that we're moving away from Russian fossil fuels doesn't contradict that – because that's exactly what the Green Deal is about."