EMS reaches crisis level | Hartsville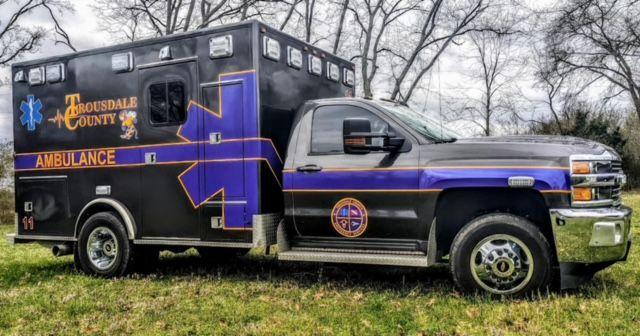 Emergency Management Services (EMS) staffing shortages have plagued the country in recent years, and Trousdale County EMS was no exception.
"This is a national problem," said Trousdale County Emergency Services Chief Matt Batey. "This is not just an isolated problem in Trousdale County. We've lost quite a few people over the past year, and it's been very difficult to find replacements for them. We're short paramedics, and that's what we really need to find.
"Paramedics are the best-trained prehospital provider in Tennessee, and there seems to be a huge shortage. I'm donating part of it to COVID, as the programs have been shut down for a while. We had two years where we had no production of outgoing students (from EMS programs).
Competitive compensation has also been an issue that counties across the state have had to address. However, due to their larger size, neighboring counties such as Wilson and Sumner counties were able to offer larger increases to their employees than Trousdale County.
"In Middle Tennessee, the salary has now reached a viable amount," Batey said. "Sumner and Wilson have had huge pay raises, and Trousdale County isn't far behind. We have to be a bit competitive with these two counties, and we try to keep pace as best we can.
"We have increased our salary. In addition to our hourly rates, we have automatic overtime, so you really have to look at the annual salary. It can be misleading to look only at the hourly rate of pay. It's not on the same level as nursing, but we're moving in that direction. And we are improving our services.
With recent wage increases, many EMS employees who previously came from neighboring counties to work in Trousdale County as a second job no longer need two jobs to make ends meet.
"In the past, we usually had people from Sumner or Wilson County working here," Batey said. "It was their second job. But because they have increased their wages dramatically in recent months, they no longer needed to work two jobs to maintain their lifestyle. So they would leave here.
"In Nashville, when they hire, they usually hire one or two of our employees. Obviously, we can't compete with the pay or benefits they have. No one here, not even Wilson or Sumner County, can compete with Nashville. They have so many advantages because they are a much bigger city. So it always hurts, and everyone feels the same pain.
Fortunately, even during lean times, Trousdale County EMS was able to maintain two ambulances using automatic overtime for their employees.
"Even during the times when we were understaffed, for the most part, we maintained two ambulances continuously throughout this shortage," Batey said. "So we had people working a lot of overtime, which was a necessary evil at the time if we wanted ambulances on the road. We haven't had services where we haven't had an ambulance. We always had one ambulance, and most of the time two.
"Unfortunately you (can't) plan for your emergencies – having someone available. You don't pay emergency services for the work they do. You pay them for their availability. They have to be there 24 hours a day, 7 days a week, 365 days a year. »
Since short response times are essential in any emergency, Trousdale EMS recognizes its need to offer training courses to prospective students.
"We're actually going to do a basic EMT course next month," Batey said. "Vol State (Community College) will be sponsoring that one. Motlow State also runs classes. Most of our people come from Vol State or Motlow (State Community College).
Due to ongoing challenges recruiting and retaining employees, the foundation course offered next month will be open-enrollment, meaning anyone interested in this area of ​​work is encouraged to attend.