Engineering of industrial microalgae to produce healthy organic oil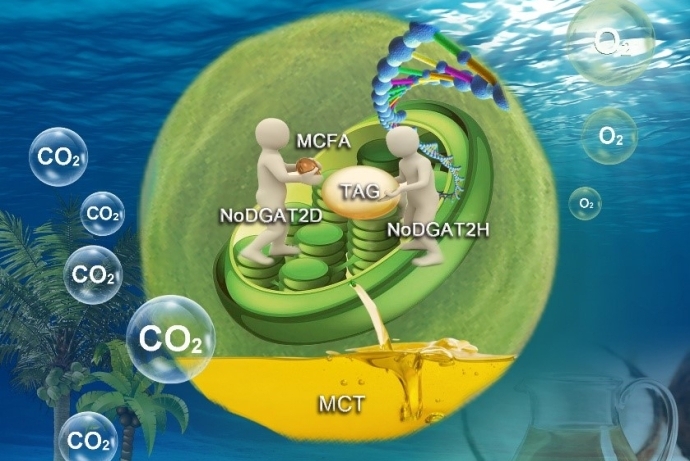 According to a study by researchers from Qingdao Institute of Bioenergy and Bioprocess Technology (QIBEBT), Chinese Academy of Sciences (CAS).
This study was published in Plant Physiology on August 30.
Called triacylglycerols, these organic oils are the main form of energy storage in cells and are found in all vegetable oils and animal fats – but they are not equal.
Each triacylglycerol molecule is made up of three fatty acid moieties that are anchored to a glycerol scaffold. Depending on the chain length of fatty acids, each molecule can be classified as long-chain triacylglycerol or medium-chain triacylglycerol (MCT), which are distinguished by their scope of application, economic value and market potential.
"During digestion, MCTs are converted into medium-chain fatty acids, which bypass adipose tissue, reducing the chances of conversion into adipose tissue," said XU Jian, a professor at QIBEBT's Single-Cell Center. "It also increases energy expenditure, fat oxidation and satiety and reduces energy and food intake in lean and obese people."
The problem is availability. MCT oil can only be made by processing palm and coconut oils, both of which are restricted to growing in tropical and subtropical regions.
"In addition, only about 3% of whole plant mass is stored as oil, so we need a more efficient and versatile raw material," said XIN Yi, associate professor at the Single-Cell Center, explaining that the limited availability of MCT has hampered full-scale exploration of the product.
The marine microalga Nannochloropsis oceanica has caught the attention of the research community with its high photosynthetic growth potential and rich oil content, but it has generally been found to contain only 0.01% to 0.05% of MCTs. Despite this low content, genetic analysis has previously revealed evidence of a native MCT assembly mechanism in this microalgae.
In this study, the researchers discovered in the microalgae two specific enzymes dedicated to the assembly of medium-chain fatty acids. These two highly talented enzymes, when stacked with additional enzymes that supply substrates to the specialized MCT assembly mechanism, can increase MCT productivity by 64.8 times during the peak phase of oil production.
Such functional specialization of these proteins in determining product chain length reveals a hitherto unknown dimension of cellular triacylglycerol control, which can be exploited to produce synthetic oils in microalgae.
Researchers plan to further enhance MCT production by genetically manipulating the molecules to stop breakdown, control fatty acid lifespan, and increase total triacylglycerol content.
"Such efforts are expected to further improve the production of cellular MCTs and accelerate the rate of transformation of industrial microalgae into efficient and sustainable raw materials for synthetic oils," said HU Chunxiu, associate professor at the Dalian Institute of Chemical Physics. (DICP) of the CAS.
This work was supported by the National Key Research and Development Program, the DICP-QIBEBT Joint Innovation Program, and the National Natural Science Foundation of China.
A mechanistic model of NoDGAT2s-mediated MCT synthesis in N. oceanica. (Image by LIU Yang)
/Public release. This material from the original organization/authors may be ad hoc in nature, edited for clarity, style and length. The views and opinions expressed are those of the author or authors. See in full here.