Inner Mongolia Fosters Quality Growth with Tailored Financial Support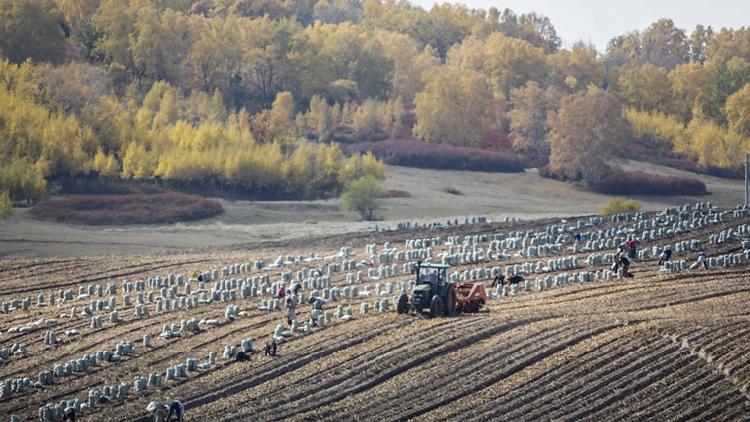 With particular advantage in the agricultural sector, the Inner Mongolia Autonomous Region of northern China, the country's largest province by latitude, has the strategic objective of becoming a manufacturing base for the agricultural industry.
In an interview with CGTN, Huang Zhiqiang, vice president of the autonomous region, explained the roadmap for the local financial sector and how the local financial sector facilitates a high quality growth trajectory.
CGTN: What has the government of the Autonomous Region of Inner Mongolia done to stabilize the regional economy under the coronavirus?
Huang: The first thing for us was to make full use of preferential policies like special loan funds, rediscounts and the reduction in the reserve requirement ratio. In this way, we provide more liquidity and help financial institutions to have stronger capacities to serve the real economy and better support the return to work of companies.
In particular, we are increasing the supply of credit and lending for small and medium-sized enterprises (SMEs) in the private sector and areas related to agriculture to fully ensure the proper functioning of market entities. At the same time, we have encouraged banks to allow SMEs to delay loan repayments if necessary.
Autonomous region banks authorized deferred repayment of principal and interest on 101.4 billion yuan ($ 15.7 billion) loans in 2020, which benefited about 50,000 businesses.
The second measure is to increase our tax expenditures to help businesses access financing by providing financial guarantees. We are building a loan financing platform for small and medium-sized foreign trade enterprises to support their businesses.
Last year, the balance of loans guaranteed by finance guarantee institutions within the Autonomous Region grew by 7.7% per year to reach 34 billion yuan. About 78,000 businesses were able to access financing, which represents a 69% year-over-year increase.
CGTN: China has always stressed that finance must be at the service of the real economy. We know that Inner Mongolia has a very large agricultural region. So how does finance work here to serve the agricultural sector?
Huang: We propose a concept called "agricultural and livestock dividend" based on a survey.
First, we have put in place a mechanism of "leading banks" to lead research on promoting financial services in key sectors.
Second, we have set up targeted financial institutions at the county level. These special branches act as grassroots outlets and are close to the local market. They also act as professional branches to focus more on the development of the industry's value chain.
We use professional institutions to expand new market shares and use their expertise to avoid operational risks and improve the quality of inclusive finance in the Autonomous Region.
The third initiative is to call for active collaboration between the government, banking and insurance sectors to innovate in products, service models and deliver multiple innovative financial products.
For example, the China Construction Bank has launched a special loan program to Arun Banner, which allows the transfer of land use rights as collateral. Users could also transfer their land rights online through a local land transfer platform.
CGTN: We know that you recently signed a strategic cooperation agreement with the Shanghai Stock Exchange (SSE). Give us more details about the deal, and what do you want to achieve through the partnership?
Huang: To be frank, Inner Mongolia's capital market remains a weak point for us and still acts as a bottleneck for further economic transformation and development.
Last December, our president Bu Xiaolin visited ESS and reached a consensus on further cooperation. They also renewed their comprehensive cooperation agreement. The agreement is very important and covers four main aspects.
First, the two sides would help qualified enterprises in Inner Mongolia to be listed on SSE and Scientific and Technological Innovation Council, known as STAR market.
Second, both parties should explore a list of high quality companies that have the potential to be listed. And the SSE will use its professional expertise and knowledge to provide technical support, start-up services and targeted training to these companies.
The third is that the two sides will strengthen regulatory oversight and collaboration to support mergers and acquisitions and refinancing of listed companies. We will promote business transformation and upgrading, making them better and stronger.
Fourth, the two sides will help issuers in the Autonomous Region to issue bonds on the ESS. The SSE would provide professional service to train more talents for Inner Mongolia and ensure enough talent to support the development of the local capital market.
(Michael Wang also contributed to the story.)