Meet Abigail Prescott, Polsky Center's New Executive Director of Marketing and Communications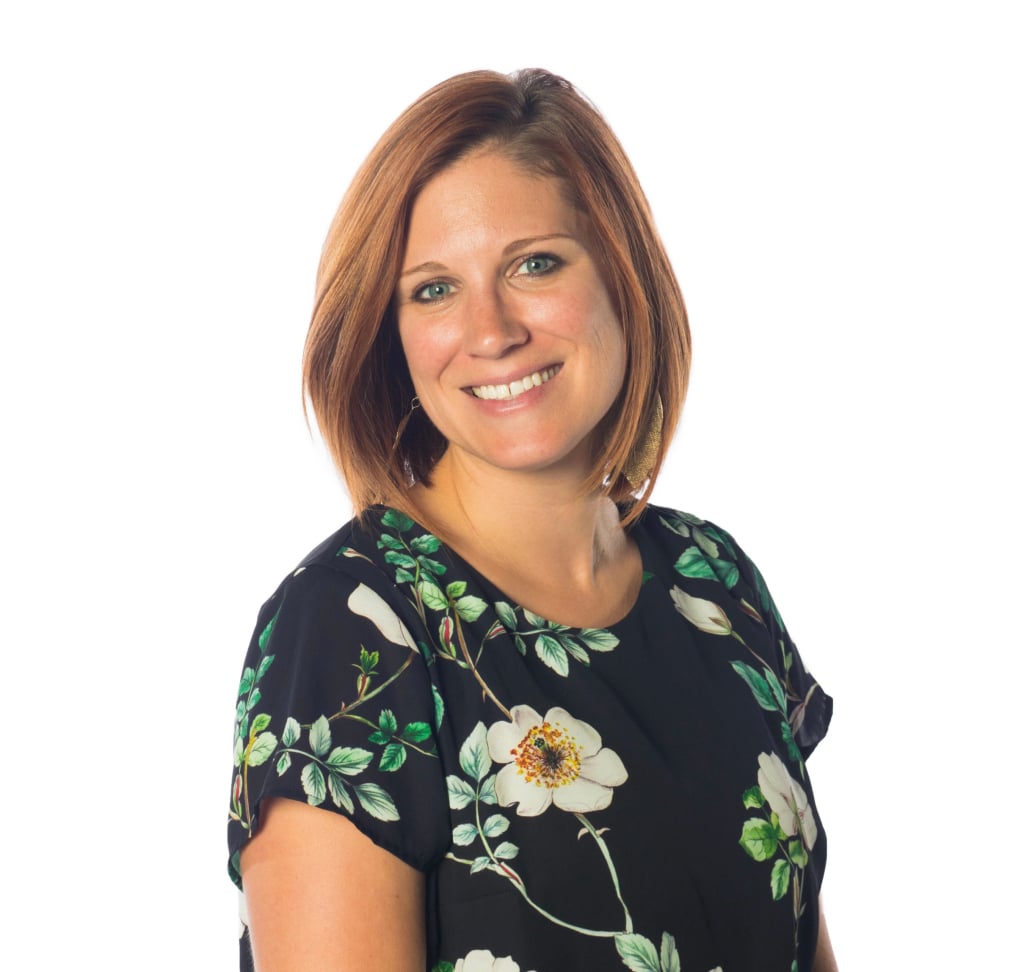 The Polsky Center for Entrepreneurship and Innovation is pleased to announce that Abigail Prescott has joined the leadership team as Executive Director of Marketing and Communications. She will lead the Polsky Center's internal and external strategies to raise awareness of the wide range of entrepreneurship programs offered to students, alumni, faculty, and research partners, as well as the University of Chicago.
Abigail comes to the Polsky Center after nine years at Urban Gateways, a Chicago nonprofit that engages youth in artistic experiences to inspire creativity and effect social change. As Director of Communications there, she focused on brand and identity development as well as creative storytelling and communications strategies to engage a variety of audiences. Previously, she held marketing and development positions at Cannon Design, Old Town School of Folk Music and Green City Market.
"I am thrilled to join a strong team dedicated to cultivating entrepreneurship and advancing the commercialization of innovations and new ideas," said Abigail. "My previous professional experiences have prepared me to create, lead and manage sustainable marketing and communication strategies. I hope to bring a creative storytelling edge to the ideas coming out of the Polsky Center, strengthen its identity, and help demonstrate the impact on its supporters and constituents.
Abigail, who goes by the name Abby, earned an MFA from Columbia College in Chicago and a BFA in photography and studio art from Illinois Wesleyan University. She lives in a century-old house in Oak Park with her husband and two children, ages 4 and 2. Outside of work, Abby is a vinyasa yoga teacher, aspiring gardener, maker of elaborate birthday cakes, and self-taught. described the "creative soul" that infuses artistic practices where it can, whether visual arts, music, creative movement, or simply inquisitive thinking.
Here's more about Abby in her own words.
How did your background prepare you for this role?
Stories!! Stories bring abstract thoughts and ideas to life. They help create powerful bonds. The last decade of my career has been dedicated to facilitating creative communications and finding new ways to tell the story of impactful programs. During my years as Director of Communications for Urban Gateways, I led brand and identity strategies after two acquisitions and created a cadence of storytelling opportunities for the organizations' various audiences (from teens to members of the philanthropic board of directors). My time there definitely prepared me for this role at the Polsky Center to engage audiences, tell impactful stories, and create powerful connections.
The complexity of the Polsky Center makes it an exciting marketing challenge. I'm learning that there's so much going on, so many amazing stories, and a diverse audience that wants to engage in entrepreneurial work. I look forward to leveraging my experiences leading complex brands, from defining visuals and themes to help audiences understand and follow through to creating truly robust content that empowers the audience to connect with the innovative ideas and research flowing through the Polsky Center.
What's the best lesson you've learned in your career?
I can't pick just one, but here are a few that have resonated over the years that I try to stick to today:
Relationships are essential: I am a "people collector". I like to surround myself with people who share my values, who are dedicated and passionate about their job and who are ready to take risks. with me. From my close friends to my professional network, I believe genuine, genuine relationships are some of the most important things in life.
It's okay to say "No": We all have a limited capacity. It's just how time, space and physics work and you can't argue with science! I often find it hard to say no; I like to say yes and go for things – but if I'm not able to commit and do things right, then "yes" was the wrong choice. I'm a firm believer in "if you can't do it right, don't do it". I would much rather make sure something is done right than settle for mediocrity – and sometimes that means saying no. But I have to practice this daily, and it's hard!
Always learn, stay curious and change your perspective! – If you think you can't learn anymore, you're dead in the water. I think the most important growth comes from staying curious – asking questions, coming up with ideas, spinning things around a bit. And knowing that sometimes you need to go out of your own way. If things are stagnant or seem stale, change your perspective (literally!) – you may just have to stand on your head to see things differently. *see reference to teaching yoga above!
What professional achievement are you most proud of?
I have two achievements of which I am very proud, both within the framework of Urban Gateways. However, I cannot take credit individually as I led the strategy and project management for the projects while the execution and implementation was outsourced to consultants, staff and very talented team members:
In 2017, I led the visual rebranding and identity of Urban Gateways after its recent acquisition of Street-Level Youth Media. Urban Gateways had over 50 years of history and Street-Level Youth Media enjoyed strong brand recognition among young participants. It was also on the heels of another acquisition four years earlier of Art Resources in Teaching. The branding consultant we worked with did an amazing job with the discovery phase of the project – focus groups, one-on-one interviews, historical reviews – to fully understand the multi-faceted organization that Urban Gateways had become. . The result was a very multi-dimensional visual brand with a multitude of building blocks – a huge pattern, a 10-color palette, custom fonts – and a wide open door on how to use all of those building blocks. Working with the brand after its release in 2018 was just a joy – there was so much to explore, to customize, to play. It was really fun to watch our team evolve the visual brand from something that felt very primal and youthful to a more mature teenage brand, and watch it continue to grow.
I'm also very proud of my project management of the Teen Arts Pass mobile app for Urban Gateways in 2019. The goal was to expand equity and access to teen users and successfully link multiple CRMs, technology platforms and systems for the program. Similar to the rebranding, this was a multi-faceted discovery process that engaged our end user in feedback loops throughout app development: focus groups, interviews, and letting our teens really dictate what they needed and what they wanted to see in the finished product. The result is a beautifully designed mobile app developed for iOS and Android platforms that seamlessly connects multiple data systems. This project was really interesting to carry out because I knew nothing on application development, although user experience and UX/UI were my interests. I learned a lot along the way and it was truly amazing to see our teenager's ideas come to fruition in truly amazing technology.
What is your favorite novelty?
The Post-it! Gotta love these reusable, re-stickable, residue-free little productivity squares! The story behind its creation is also one of my favorites: the Post-It Note was almost a failure and is really only the result of a few real failures in product prototyping. And it only really caught on in the market after another initial failure in mainstream marketing. So, be like the Post-It: let mistakes happen, persevere, be less sticky… and stay organized!
What's your favorite way to spend a Sunday?
Sleep and ask my kids to bring me breakfast in bed. HA! It's done never past. I am the first to wake up in my house and an early riser. Alas. But seriously, after a hearty coffee and a hearty breakfast, I love spending Sundays outside with my family. Whether it's digging in the dirt, planting in the garden and catching up on yard work, hiking with my little monsters and watching them discover something amazing in nature, or doing snow angels in the yard – spending the day outside with loved ones is one of the best Sundays.