To Combat Overdose Deaths and Substance Use Disorders, Safe Injection Sites Are Just What New York City Needs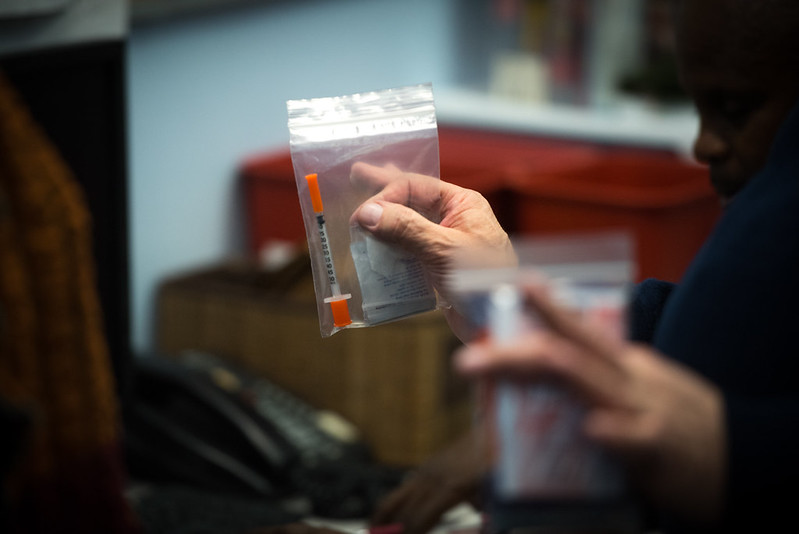 Fighting addiction and overdose in New York City (Photo: Edwin J. Torres / Mayoral Photo Office)
---
In recent weeks, news has emerged that, according to provisional figures from the National Center for Health Statistics, more than 100,000 Americans have died of overdoses in a 12-month period ending in April 2021. For the first time in history, overdose deaths in the United States topped 100,000 in one year, a higher value than the number of car crashes and gun deaths combined in the same period. .
Sadly, New York City residents are a common victim of this crisis: every four hours someone dies of a drug overdose in New York City. We are in the midst of a national health threat. The United States has unequivocally lost its longest war, the 50-year "war on drugs".
While the War on Drugs campaign has been extremely effective in perpetuating institutionalized racism and decimating communities of color, American streets are inundated with more potent and dangerous drugs than ever before, primarily methamphetamines and the synthetic opioid fentanyl. The belief that trillions of dollars in taxes spent on tough law enforcement, coercive suppression of the production and criminalization of drug use, possession and supply would lead to a decrease the market for controlled drugs such as heroin, cocaine and cannabis has been a total deception.
Much of the war on drugs was waged in the name of public safety, not public health. However, the "safety" of the ill and suffering substance user was never centered in this war. Instead of making people safer, punitive drug policies have fueled mental, emotional and physical violence, instability, and pain.
Nearly half of inmates in federal prisons are charged with drugs, making people with addictions realize that they are inherently bad and that having a substance use disorder is criminal. This, in turn, perpetuates shame and stigma, and prevents the substance user from taking the courageous step of seeking help.
The War on Drugs has failed to understand human behavior, as well as the power and root causes of addiction. Drug addicts experience extreme and unbearable shame and trauma at the hands of their addiction daily. Shame is a lingering companion for an addict, but it isolates and causes a deep sense of separation. Shame is debilitating, traumatic, and causes chronic feelings of self-doubt, inferiority, hopelessness, inadequacy and worthlessness. This can become a barrier to seeking and accepting help, as one feels that one does not deserve help and attention or love and support. Shame can cause a person's sense of self to hide, and also fuel compulsive behaviors as a way to escape pain and feelings of worthlessness. Shame continues the cycle of addiction and can become its own prison.
With that in mind, how can we, as a society, help make meaningful changes in the lives of those struggling with drug addiction? The opposite of addiction is not recovery – it is connection. When policies make people feel ashamed, altered, excluded, criminalized or punished, those with substance abuse will not feel empowered to connect with treatment providers, community support networks, resources, members of the community. loving family, spiritual counselors, friends or themselves.
As we look to the future, we need interventions that move away from shame and stigma and instead focus on connection, compassion and understanding. Safe injection sites do just that and will be essential in the fight against overdose deaths.
As noted by the American Medical Association, supervised injection sites save lives. Research indicates that supervised injection sites reduce the amount and frequency of drug use, public injecting, drug trafficking and crime (in areas where facilities are located), high risk behaviors of HIV and hepatitis C and overdose / overdose deaths.
In 2020, a study published in the New England Journal of Medicine found that there were no overdose deaths at an unauthorized supervised injection site (in an undisclosed location in the United States) from 2014 to 2019. Likewise, the National Institute of Health has recognized that while more rigorous research on overdose prevention sites needs to be done, monitoring drug use and overdose management have the potential to offer benefits. for the health of those at risk and to bring "economic benefits to the community as a whole."
Perhaps more importantly, supervised injection sites are formal health care facilities that do not pass judgment and do not stigmatize drug use or drug users. Individuals are treated as human beings and accepted for who they are, regardless of where they are in their recovery process.
For many substance users, a visit to a supervised injection site may be their first interaction with compassionate and caring healthcare providers, who inspire them to connect or reconnect with society and treatment services. drug addiction. For every addict who can muster the courage to seek help and seek treatment, there are thousands who struggle silently in isolation and shame, never accessing help. While opponents of supervised injection sites argue that public funds are better spent on drug treatment and that supervised injection sites encourage continued drug use, I counter that supervised injection sites encounter problems. many substance users where they are and are a powerful entry point in the recovery process.
To parents who are concerned that supervised injection sites in their neighborhood will harm children, I challenge you to teach your children not to turn their heads when they see pain and suffering, especially in the form of mental disorders and drug addiction. Rather, model and explain how to be compassionate and empathetic to those who are sick and in pain. Talk to your children about substance use and let them know that you are a safe person to have difficult conversations with about drugs and alcohol. There is no doubt that your kids will see drugs and alcohol at social events in middle school, high school, and college. Failure to teach them about the dangers of substance use and arm them with social and emotional coping skills will put them at risk for experimentation and substance abuse, but not see or live near supervised injection sites.
As an addiction treatment service provider and as a person recovering from addiction, I would love to see everyone with an addiction disorder embrace abstinence and break free from the shackles of addiction. I want to see people with substance use disorders undergo detoxification, detoxification and long-term treatment and realize the new freedom and happiness that comes with abstinence. However, recovery is a journey, not a destination, and we must respect that each individual has the right to their own journey. For many, visiting a supervised injection site will be the first step in their recovery journey.
We have to remember that everyone who goes to a supervised injection site says they love themselves a little more than they love a substance, that they care about their life and that they don't want to. pass away. For someone addicted to substances, this is monumental. From there, we have to love and embrace the user until they are able to love and kiss on their own, as our government is simultaneously establishing policies and institutions that truly understand the initial problem.
Our country must connect and provide compassionate services to the 21 million Americans struggling with substance use disorder in this country if we ever intend to tackle drug addiction and its root causes.
***
Amanda Fialk, PhD, LCSW (She / She / Siena or Them / Them) is a Certified Clinical Social Worker and Associate and Clinical Director of The Dorm, a young adult mental health treatment community based in New York and DC. On Twitter @AmandaFialkPhD.
***
Got an editorial idea or a submission for Gotham Gazette? E-mail This e-mail address is protected from spam. You need JavaScript enabled to view it.