Week 4 Business Goals including Julio Jones, Jonathan Taylor and Adam Thielen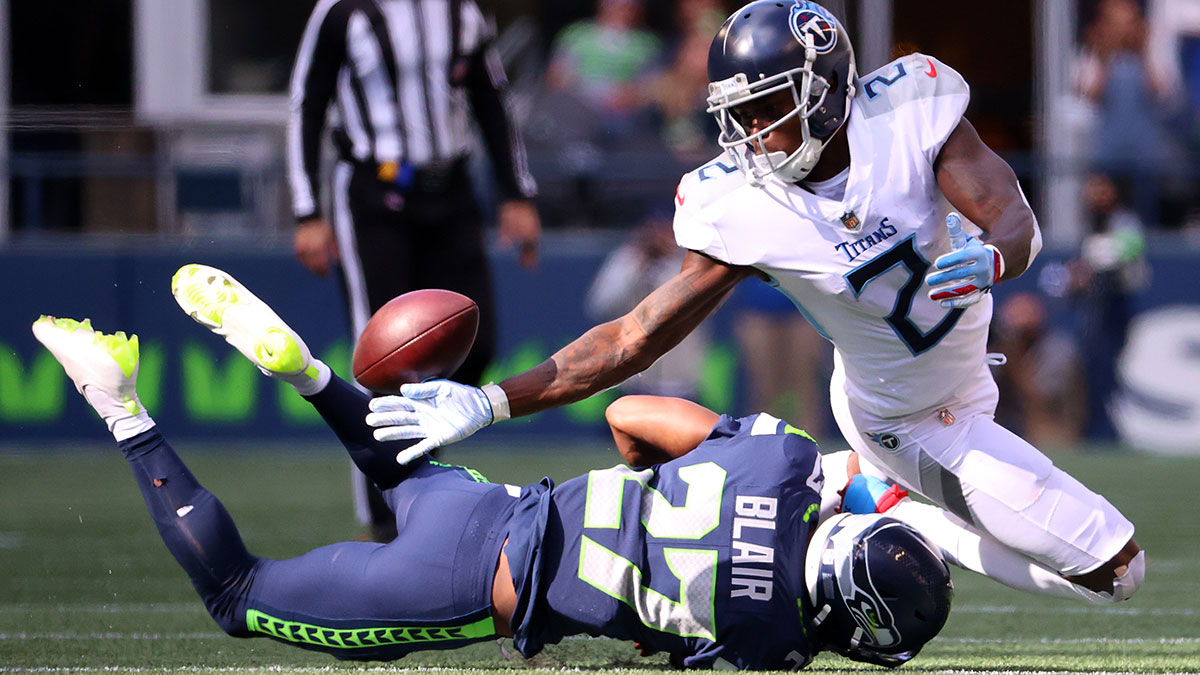 An overcrowded injury report left many fairly meager rosters heading into Week 3, forcing some to look to less prominent players like Taylor Heinicke, Alexander Mattison, Davis Mills, Peyton Barber, Braxton Berrios, Donovan Peoples-Jones and KJ Osborn for the fantastic production
The biggest fantastic news of the week was the loss of Panthers star running back Christian McCaffrey, who left Thursday night's game early with freshman hamstring strain. Rookie quarterback Justin Fields made his first NFL start with Andy Dalton on the sidelines and was completely routed by the Browns' pass rush. The Giants fought very little against the Falcons and lost receivers Sterling Shepard and Darius Slayton in the game. The Broncos remain undefeated, but have lost wide KJ Hamler for the season with a ripped ACL. And second-year running back Clyde Edwards-Helaire made another costly fumble in the Chiefs' second straight loss.
As Week 4 approaches, here are the trade targets that have seen their value change after the last three weeks of games.
Low Buy Week 4 Business Goals
Below are 10 week 3 underachievers, or players whose value might rise in the next few weeks that you should target through trades.
Jonathan Taylor, RB, Foals
Taylor's season has been a disappointment so far after making the first round of numerous drafts this year. He is currently RB29 for three weeks – six places behind his pass-catching counterpart, Nyheim Hines. I think his ineffectiveness was the product of that disappointing Colts offense, which should improve once quarterback Carson Wentz's health improves. The team are also looking to deal with Marlon Mack, which means Taylor will have even less competition in the backfield going forward. He's an interesting buy-low contender with the Dolphins on deck.
Javonte Williams, RB, Broncos
Williams has certainly overtaken veteran Melvin Gordon this season in terms of fantastic production. Gordon is RB10 for three weeks in the PPR half while Williams is RB39. Their attempts and goals are almost identical though, and Gordon has the advantage of a 70-yard touchdown in Week 1. I think it will be a split backfield with Williams' role increasing over time. .
David Montgomery, RB, Bear
Montgomery came out strong in Week 1 with a 100-yard rushing game and a touchdown, finishing in RB7. He's been a lot quieter with Justin Fields under center, which is a bit of a shock considering Fields' style of play should benefit the running game. I consider it only a matter of time before either 1) Matt Nagy learns to wield Fields as an offensive weapon and stops trying to make him a pocket passer behind the Bears' ugly offensive line, or 2) Nagy gets fired. Montgomery should benefit from either of those things and thrive in a Fields-led offense.
Zack Moss, RB, bills

Devin Singletary appeared to have that job locked after Moss was a Week 1 scratch, but Moss came back in Week 2 and was heavily used on the goal line. The pattern repeated itself in Week 3, with Moss seeing 13 carries against Singletary's 11 and scoring on a pass touchdown. It gives the impression that this will be a committee with Moss in the foreground.
Rashod Bateman, WR, Ravens
Bateman started the season on the injured list after sustaining a groin injury at training camp that required surgery. The first round of 2021 is set to resume training this week, according to head coach John Harbaugh, and is eligible to return as early as week 4. It's definitely a name to hide or watch, especially in light of the many Marquise Brown's grave in Sunday's nail bite against the Lions.
Julio Jones, WR, Titans

Jones jumped against the Seahawks in Week 2 and finished as WR16, but has been largely disappointing otherwise and has yet to find the end zone this year. He can see an increase in his workload with AJ Brown's lingering hamstring injury and has the Jets and Jaguars on the bridge, which should be favorable clashes. Check if his manager is panicking in your leagues.
Allen Robinson II, WR, Bear
Pretty much a copy-paste argument from above regarding Montgomery. I believe better days are ahead for Fields and Robinson, who has managed to survive a poor quarterback his entire career. He's currently WR67 in half the PPR, which means you can probably get him for a fraction of his draft cost right now.
Will Fuller V, WR, Dolphins
It's easy to forget that Fuller was on the track for 1,278 receiving yards last year before his suspension. He missed the first two games this year and made a quiet start for the Dolphins in Week 3 with three catches for 20 yards. Fuller's value takes a slight hit with Jacoby Brissett under center as Tua Tagovailoa recovers from his rib injury, but with everyone fading the Dolphins, this would be a good time to buy low.
Kyle Pitts, TE, Falcons
Pitts is a great low buy, and no, it's not just me who doubles my love of pre-season Pitts. He is currently TE15 in half of the PPR which is certainly not great considering he was drafted by consensus among the top six in this position, but he has looked good in Flashes. It is clear that this attack struggled for three weeks under Arthur Smith, despite the team claiming their first victory on Sunday against the Giants. I predict that the chemistry between Matt Ryan and Pitts will grow over time over the course of the season. He should easily finish in the top 12.
TJ Hockenson, TE, Lions
I don't know if a single bad game can qualify a player as a "low buy", but Hockenson was extremely quiet in Week 3 against the Ravens. He caught two of two passes for 10 yards after scoring and catching eight assists in each of the previous games this season. This Lions attack isn't stellar, but Hockenson is the centerpiece and will remain Jared Goff's best option going forward.
Week 4 business goals to sell high
Below are seven week 3 outperformers, or players whose values ​​may drop in the next few weeks that you should try to unload through trades.
Melvin Gordon III, RB, Broncos
Gordon has eclipsed rookie Javonte Williams so far and is currently RB10 in the PPR half. Their touches have been almost identical, however, and given that Williams represents the future of the Broncos running back, I predict his role will increase as the season progresses. This is the height of Gordon's whimsical value: sell him while you can.
Trey Sermon, RB, 49ers
What a roller coaster this has been. Week 1, Sermon was shockingly benched for Elijah Mitchell. Week 2, Sermon fumbles and is concussed on his first portage to the NFL. Week 3, Sermon starts with Mitchell (shoulder), JaMycal Hasty (ankle) and Raheem Mostert (knee) and finishes as RB26 after scoring his first touchdown in the NFL. That said, fullback Kyle Juszczyk was strewn in the 49ers' running game and saw five carries for 14 yards and caught four of four passes for 37 yards and a touchdown. Mitchell could return as early as this week, and Juszczyk's use was a reminder that head coach Kyle Shanahan still doesn't trust Sermon with a full workload. He is a "sales medium" right now.
Brandin Cooks, WR, Texans
Cooks has been a pleasant surprise this season and is currently WR6 in half PPR behind Cooper Kupp, Mike Williams, Tyler Lockett, Adam Thielen and Ja'Marr Chase. I think there's a near zero percent chance he'll continue at this rate in this volatile Texans attack led by Davis Mills. If you could sell it as WR1 to another manager I would definitely do it.
Christian Kirk, WR, Cardinals
Kirk has also been a nice surprise this season for fantasy. He is currently in WR13 three weeks ahead of DeAndre Hopkins and Rondale Moore. I don't see it as a sustainable pace, and prior to last week rookie Rondale Moore had been the team's most targeted receiver. Moore's role is expected to increase as the season progresses, and I predict he will be the WR2 stuck in that attack behind Hopkins, while Kirk and AJ Green remain big-game addicted boom or bust players. .
Adam Thielen, WR, Vikings
Thielen is a fantastic player and is currently WR4 in half PPR, but a lot of his production has come from touchdowns, not footage. Option 2 remains on this crowded depth chart behind Justin Jefferson and ahead of KJ Osborn and tight end Tyler Conklin. He is currently a prime selling candidate.
Tyler Boyd, WR, Bengals
Boyd had his best game of the season in Week 3, catching four of six passes for 36 yards and a touchdown. Tee Higgins' absence from this game certainly helped Boyd's share of the target increase. He will be Option # 3 behind Higgins and Ja'Marr Chase once Higgins is fully healthy again.
Mike Gesicki, TE, Dolphins
Just as the fantastic community were ready to write off Gesicki, he delivered in Week 3 and caught 10 out of 12 targets for 86 yards. Much of his production came late in the game, however, and he's still not a reliable TE1 for fantastic purposes in this anemic attack from the Dolphins and after a Week 1 bagel.