Will lobbyists succeed in changing Kenya's tough stance on homosexuals?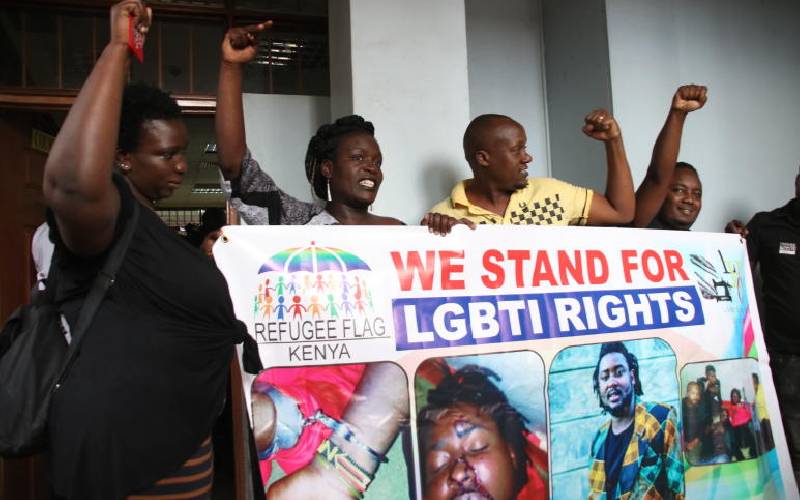 It is an indisputable fact that the presence of powerful forces of international gay and lesbian movements is now a reality in most parts of Africa. The increase in press freedom, the widespread use of the Internet and social media, as well as the liberalization of trade, are increasingly producing a form of globalization engendered in Africa, which in turn accelerates internationalization. sexual rights and identities. Emboldened LGBT people caused deep culture shock at the 2007 World Social Forum in Nairobi by going out publicly to claim their rights and declare that they were not ashamed of their sexual orientation.
In the relatively recent past, Kenyans did not speak out boldly on issues relating to homosexuality for fear of the cost of exposure, being keenly aware of their own vulnerability in the event of public knowledge of their sex life and for fear of breaking the conventions of the dominant society.
Therefore, the vexatious talk about LGBT people in Kenya is no longer a peripheral problem. He has now acquired a real "over-presence" and has become quite dominant in academia and in the public sphere. Today, due to the evolution of human rights discourse, thwarting, criticizing or tarnishing the LGBT institution is a far more serious offense than it was before.
Psychosexual theory
Even the revered father of psychoanalysis, Sigmund Freud would find it difficult today to sell his psychosexual theory of human growth and development which presupposes that homosexuality is treatable, as this position now runs counter to prevailing notions that no longer consider homosexuality to deviate from the norm.
Many academics and public figures are healing the wounds suffered in trying to counter this powerful gay wave, with any opposition being labeled a gross repudiation of a universal quest for liberation from sexual and gender-based oppression. There is also the precarious fate of being labeled homophobic, backward, or unsophisticated if one espouses anti-homosexual sentiments and, as a result, of losing funding, scholarships and other professional privileges that are of great importance. increasingly linked to candidates' dedication to the causes of powerful and well-heeled pro-LGBT lobbies.
In the mold of Ugandan critical scholar Sylvia Tamale, academics also appear to be moving away from previously entrenched and conservative Pan-African positions in the gay debate. Tamale warns of the dangers of engaging in a simplistic African discourse on sexualities, which relies uncritically on knowledge built on an edifice of Western cultural assumptions but which does not respond to the concrete ways in which the sexuality is experienced in African spaces.
More recently however, a curious connection between LGBT and global trade is emerging, with the 'who-is-who' among the world's richest conglomerates joining the fray and tacitly obliging countries poor people in the South to adopt LGBT people.
A coalition of more than 20 major global companies including Microsoft, Google, Barclays, Standard Chartered, IBM, PwC and American Express called on Kenya to fully and legally recognize gays, lesbians, bisexuals and transgender people in order to "unlock more billions in the economy '. These powerful corporations have claimed that Kenya loses between 18.5 billion and 130 billion shillings each year due to policies that attribute crime to and discriminate against the LGBT community.
The target of conglomerates is understandable. African countries are still the easiest to manipulate, perhaps because of their too much dependence on the Western stock market for their fiscal survival, and the existence of a rapacious political class that is ready to access any governance experiment as long as it is directly reinforced.
Hammered by the gay wave, many governments have capitulated. Even the Christian churches, formally regarded as the impregnable defenders of the biblical heterosexual definition of marriage have not been spared. The Methodist Church, founded on the teachings of "sanctification" and "holiness" of the Wesleyan brethren, was the last to reject biblical injunctions on old age and allow same-sex marriages.
Currently, homosexuality and same-sex marriages are criminalized in Articles 162 to 165 of Kenya's Penal Code, which characterize them as "unnatural carnal conscience" and are punishable by five to fourteen years in prison.
The guessing game therefore continues: how long can Kenya remain the "last man standing"? Will the Kenyan LGBT community become critical masses that will threaten the results of national votes, as has happened in the United States, Canada and other Western countries? Will local politicians then stand firm or will they, true to their habit, change the nation's laws and remove the few "offensive" clauses that may hinder their own retention in power?